Why Hollywood
We are obsessed with our patient's experience and pay attention to every detail. We took years to research this industry and curate our offerings to stand out from the competition. From our elegant retail locations nestled in affluent communities to our world-class team of aesthetic professionals, state-of-the-art equipment, spacious treatment rooms, and extended hours, Hollywood Med Spa stands alone in all things FACE | BODY | SKIN. We are a results-driven company with over 30 years of healthcare/aesthetic experience. If this is your passion too, we want to meet you!
---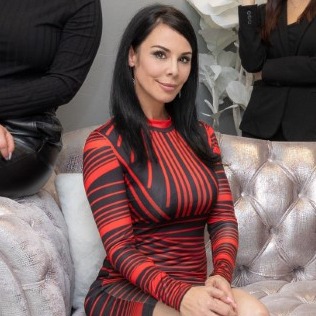 Heather Tindell, Partner, Founder
Looking and feeling great go hand-in-hand. After more than a decade in a successful career in film, television, modeling, and sports broadcasting, Heather segued into the medical field where she developed her love for plastics and aesthetics. Heather has worked alongside Dr. Garth Fisher from ABC's Extreme Makeover. She also ran the entire practice for Dr. Gary Motykie, who is best known for Dr. 90210, and grew his practice by 75% in the first year.
Heather combines her passion for wellness and the secrets she learned in working with the Hollywood elite to bring a spa like no other in the area. "My goal is that my clients experience the same level of care and treatment that actors, celebrities, and the wealthy choose at an affordable price right here in Arizona. With her partner, Jodi Harris, they are bringing the same services to Arizona at affordable pricing. They take pride in education with their team as well as skill set, they are not cookie cutter. Hollywood Med Spa is results driven.  Heather believes in creating an environment of excellence and hospitality.
"I want everyone, whether one of our celebs or your everyday mom and dad, to be given the best service possible. I want our clients to feel at home and confident with our staff and services. Our patients' results and our referrals are the standards by which we measure our success," says Heather.
In addition to all that Heather has accomplished professionally, she is honored to be able to use her platform and success to give back through her various philanthropic efforts, currently supporting the Children's Advocacy Center, the Union Gospel Mission, and the ASPCA.
The Hollywood Med Spa staff looks forward to providing the exceptional customer service they are known for.


---
Jodi Harris, Partner, Founder
Jodi Harris has been in the Medical Aesthetic industry for over 14 years, "Helping people in the Aesthetic Industry, feel and look their best and growing passionate educated teams is my true calling. Watching countless patients feel renewed, refreshed, and exhuming confidence, has changed my life as much as theirs" she says.
While advancing her knowledge working alongside some of the nation's top Plastic Surgeons and Medical Spas, Jodi has amassed quite the resume. Working in all aspects of the industry from Marketing Director positions, Leadership Development, Mentoring, Management & Operations, it is quite clear how knowledgeable she is after talking with her. Her true passion is not only leading teams to success, but also helping thousands of patients reclaim their confidence, discover their inner beauty, and express that beauty to the world and she has the track record to prove it.
Jodi's success is attributed to her relentless dedication and passion for overseeing a collaborative healthy work culture and patient experience across all Hollywood Med Spa locations. She truly believes in helping uplift those around her through compassion, warmth, understanding, and making sure everyone feels empowered to put their best self forward.
Jodi has dedicated her entire career to staying current and educated in this growing field and ensuring that the standards are met and even surpassed here at Hollywood Med Spa. In this ever-changing industry, staying results driven with clear goals and upholding the most current knowledge has always been her desire for the Hollywood team's driving force. People, passion, and purpose is her motivation.
---
Dr. David Glassman, DO, FACOG, Medical Director
Dr. David Glassman went to the University of Arizona to study molecular and cellular biology. He then graduated from the U of A and went on to study medicine at Midwestern University AZCOM.  He earned his Doctor of Osteopathic Medicine degree from Midwestern University in 2002.
After completing his residency in 2006, Dr. Glassman had been practicing in Arizona in private practice for several years and later worked for Banner Medical Group for over 7 years.  He was a Physician Lead for Banner Medical Group AZ East Division, overseeing the office, patient care, quality of care, and was involved in numerous hospital committees. Health from the inside out is Dr. Glassman's top priority.
He was part of the core teaching faculty at Banner University Medical Campus Phoenix from 2006-2020. He was also an Assistant Professor at The University of Arizona and Midwestern University. Dr. Glassman is clinically involved with several nurse practitioner and physician assistant mentorships.
David Glassman DO, FACOG is currently the Medical Director at Hollywood Med Spa, overseeing all of the services provided, and a Gynecological Surgeon at Advanced GYN Surgical Specialists, a division of the Surgical Group of Arizona.
"It's gratifying to help patients not only feel great about their appearance but to feel as good as they look," says Dr. Glassman. "Hollywood Med Spa helps people achieve both through result-driven treatment plans that include; nonsurgical aesthetic solutions as well as those that address their health and wellness and overall well-being."
---
Our Commitment
Heather Tindell & Jodi Harris work together to deliver safe and effective services with a high level of care.  With over 30 combined years in the Aesthetic/Medical Industry, they boast an impressive menu of innovative services, including feminine rejuvenation, body contouring, Injectables, and laser therapy—to name a few— Hollywood Med Spa's talented team customizes treatment plans to meet each client's unique needs and goals with simply gorgeous results.
Hollywood Med Spa stays up to date with the latest cutting-edge equipment and techniques. Our staff's commitment to developing expert-level knowledge in the use of state-of-the-art treatments puts us leaps and bounds above our competition in Arizona and around the country.
At our offices nestled in affluent communities, our experienced staff's high level of professionalism and approachability creates a welcoming environment where patients feel relaxed and comfortable. After all, enjoyable visits make for happy clients.
During a consultation at Hollywood Med Spa, patient education is a top priority. We go into detail about our treatment solutions to ensure full understanding and realistic expectations. We'll create a personalized treatment plan customized to fit clients' specific aesthetic goals. This will include state-of-the-art in-office treatment options and a skincare regimen to keep their skin looking fresh for years to come.
A major part of our commitment to quality care is patient satisfaction. We are a results-driven team, with an extensive database of clients including but not limited to celebrities and athletes wanting to enhance their features and perform at peak levels with regenerative therapies.